Sweet potato
Sweet potato

Family:

Solanales: Convolvulaceae

Local names:

Viazi vya tamu (Swahili); Makwasi (Kikamba, Kenya); Mapwoni (Luyia, Kenya)

Pests and Diseases:

Aphids Beet armyworm Black rot Diplodia black storage rot Domestic and wild animals Eriophyd mites Fusarium wilt Mild mottle virus Millipedes Rats Root-knot nematodes Sweet potato butterfly Sweet potato hornworm or hawk moth Sweet potato moth Sweet potato virus complex Sweet potato weevil Termites Tortoiseshell beetles Whiteflies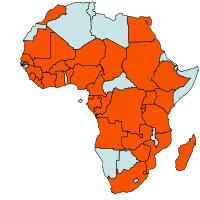 Geographical Distribution of Sweet Potato in Africa

Sweet potatoes are perennial vines, with one main season. It is widely grown throughout East Africa on a small scale mainly in subsistence farming and currently gaining popularity again along with other indigenous foods. The roots are eaten either boiled or roasted alone or with other foods such as milk, porridge, soups or meat. Young leaves are used as vegetable. The sweet potato vines are a useful and nutritious fodder crop, especially in the dry season. Some varieties are especially suited for this, producing abundant tops.

Among the great diversity of

cultivars

grown, 2 types are commonly recognised. The staple types, grown throughout the tropics, are usually white, red or purple, although yellow-fleshed types are becoming popular in Africa and Asia. The orange-fleshed types, typically have a higher sugar and vitamin A and lower dry matter content. Nutritionists in East Africa are promoting the use of yellow fleshed sweet potato varieties to combat wide spread vitamin A deficiency which decreases children's

resistance

to infectious diseases, contributing to infant mortality. The young leafy shoots, which are eaten as a green vegetable in some countries, are high in protein (approximately 20% of dry weight), and are also a good source of b-carotene, thiamine (vitamin B1), riboflavin (B2), folic acid and ascorbic acid (Villareal et al., 1985; Woolfe, 1992).









Nutritive Value per 100 g of edible Portion
Raw or Cooked Sweet Potato

Food
Energy
(Calories / %Daily Value*)
Carbohydrates
(g / %DV)
Fat
(g / %DV)
Protein
(g / %DV)
Calcium
(g / %DV)
Phosphorus
(mg / %DV)
Iron
(mg / %DV)
Potassium
(mg / %DV)
Vitamin A
(I.U)
Vitamin C
(I.U)
Vitamin B 6
(I.U)
Vitamin B 12
(I.U)
Thiamine
(mg / %DV)
Riboflavin
(mg / %DV)
Ash
(g / %DV)

Sweet Potato baked in skin

90.0 / 5%
20.7 / 7%
0.2 / 0%
2.0 / 4%
38.0 / 4%
54.0 / 5%
0.7 / 4%
475 / 14%
19217 IU / 384%
19.6 / 33%
0.3 / 14%
0.0 / 0%
0.1 / 7%
0.1 / 6%
1.3

Sweet Potato cooked without skin

76.0 / 4%
17.7 / 6%
0.1 / 0%
1.4 / 3%
27.0 / 3%
32.0 / 3%
0.7 / 4%
230.0 / 7%
15741 IU / 315%
12.8 / 21%
0.2 / 8%
0.0 / 0%
0.1 / 4%
0.0 / 3%
0.6
*Percent Daily Values (DV) are based on a 2000 calorie diet. Your daily values may be higher or lower, depending on your calorie needs.




Climate conditions, soil and water management

Sweet potato is grown between latitudes 48°N and 40°S. At the equator it is grown at altitudes ranging from sea-level to 3000 m. Its growth is maximum at temperatures above 25°C; when temperatures fall below 12°C or exceed 35°C, growth is retarded.

Sweet potato is a sun-loving crop; however, it can tolerate a 30-50% reduction of full solar radiation. It grows best with a well-distributed annual rainfall of 600-1600 mm during the growing season. Dry weather favours the formation and development of storage roots. Sweet potato is relatively drought tolerant, however, it cannot withstand long periods of drought; the yield is considerably reduced if drought occurs about the time of planting or root initiation.

Maintaining soil

organic

matter is probably the most important management practice for managing water supply in rain-fed crops.

Organic

matter incorporated into the soil will help it to hold more water and remain moist for longer. Plant mulches applied to the surface of the soil also help to reduce surface evaporation and keep the soil temperature even. They also prevent soil crusting and improve infiltration when it rains. Weeding is also important, as weeds compete with the crop for water and accelerate soil drying. Uprooted weeds can be left on the soil as

mulch

.

Where

irrigation

is available, a number of factors should be considered in irrigation management:
The aim is to keep the soil moisture conditions as constant as possible. In general, more frequent, light irrigations are preferred to larger water applications.
Sufficient water should be applied to wet the root zone, without causing deep drainage or run-off. Apart from being wasteful of water, overwatering can cause considerable loss of soil nutrients (leaching) while contaminating the groundwater and streams with the nutrients, which may be directly toxic to people or promote algal growth and eutrofication.
Light-textured (sandy) soils will require more frequent irrigation than soils with high clay or

organic

matter content. Light-textured soils will also require less water to wet them through, and are more prone to leaching and run-off losses.
The crop's water needs will be much higher in clear, hot and/or windy weather than in still, overcast weather.


The crop can be grown on a wide range of soil types, but a well-drained, sandy loam with a clayey subsoil is considered ideal. It cannot stand water logging and is usually grown on mounds or ridges. Flooding shortly before harvest may result in storage roots rotting in the soil or during subsequent storage. The optimum soil pH for sweet potato is 5.6-6.6, but it grows well even in soils with a relatively low pH, e.g. 4.2. It is sensitive to alkaline or saline soils.

Sweet potato grows best and produces smooth, well-shaped storage roots in a well-prepared soil. Good land or soil preparation involves removal or incorporation of crop debris and any vegetation that may compete with the sweet potato crop, and deep manual or mechanical cultivation.
Cultivation aims to turn over the topsoil and loosen the compacted soil below, to achieve a good tilth for forming the hills or ridges, and provide a soft, uniform medium where storage root growth is not impeded. This can be achieved by thorough ploughing and harrowing, depending on soil condition. Plant mulches, manures or other additives such as lime, gypsum or rock phosphate, that have been applied to the surface, are mixed into the soil for greatest effect. Loosening up the soil increases the oxygen content, which favours the development of

microorganisms

.

After cultivation, the land is usually prepared into ridges. Mounds are preferred by farmers working entirely with hand tools. In some areas, broad raised beds are used. On deep, well-drained soil, planting may be done on flat fields.
Ridges should be oriented along contours on sloping land, to maximise rain water infiltration and minimise erosion. Ridges are typically about 30-45 cm high, but may be higher in wet areas to maximise soil drainage. They are usually between 90 and 120 cm apart.



Propagation and planting

If there is no critical dry season, sweet potato can be planted at any time. In regions with a critical dry season, planting early in the rainy season is the best. It is usually planted towards the end of the rainy season if this is long and very wet.
Sweet potato planting material is either obtained from vine cuttings, the most common source, or from storage roots.



Use of stem cuttings

: Farmers obtain cuttings from an established crop before or just after the harvest of storage roots. The cuttings are either used to establish a maintenance field, or directly for planting the next sweet potato crop. Below are some factors affecting yield, when using stem cuttings:
Care should be taken to select 'clean' planting material. This means choosing cuttings that are free of insects, soil, and any symptoms of viruses or fungal diseases.
Generally the apical (tip) portion of the vine is better than the middle or basal portions. This portion is less likely to carry sweetpotato weevils and fungal pathogens, and has been found to establish faster than other portions. For

cultivars

with long vines, the second or third cut is acceptable. Sometimes, the second cutting is better than the tip portion, if vine growth has been so fast that the stem has not matured in the apical portion.
Length of cutting is less important than the number of nodes. Typical size is 20-40 cm, with 5-8 nodes. The conditions of the field may influence the relationship between cutting length and crop development. Farmers should experiment to decide what length is best under their conditions.
Usually one-third to two-thirds of the cutting is buried. A minimum of 2-3 nodes, but up to about 8 nodes, is placed under the soil.
The delay between cutting and planting may affect yield depending on the storage conditions for the cuttings. Storing cuttings for one to two days in humid conditions may be beneficial, promoting rooting at the nodes. Longer storage may adversely affect establishment by exhaustion of the cuttings' energy reserves. To minimise losses, leaves should be stripped from the lower portion of the cutting, and bundles of cuttings wrapped in a wet cloth or sack and kept in a cool, shady place away from wind. If roots develop during storage, they should be planted carefully to minimise damage to the roots.
If planting material is to be maintained in a multiplication plot before planting of the next crop, it is recommended that plant cuttings be planted at approximately 15 x 20 cm spacing. New growth may be ready for cutting after 45 days.



Use of storage roots

: Storage roots are used when there are insufficient stem cuttings available, or when the level of pest and disease infestation is high so that few healthy vines are left. They may also be used in highly mechanised production, as the sprouts can be harvested mechanically from the seedbed. Healthy storage roots should be selected from plants that produced high yield. The roots are planted densely in a seedbed located away from other sweetpotato crops. Roots are covered with about 3 cm of soil, and the bed covered with straw to help retain moisture. When the sprouts have grown long enough, they are cut near their base and planted directly in the field. To maximise the number of cuttings, remove the tips of the sprouts when they are about 20 cm long to promote branching.



Rapid seed multiplication

: When large amounts of cuttings are needed, rapid multiplication may be done. Although the merit of this practice has not been fully acknowledged by sweet potato growers, it can be the easiest way to produce large amount of planting materials. This method involves the following steps:
Cuttings of about 30 cm are taken from either established plants or sprouted storage roots. These are then cut into single node cuttings, with the leaf attached. The tip of the vine is discarded.
A seedbed is prepared with a mixture of loose, humus-rich soil and ash. The single-node cuttings are planted at a high density, with the stem section buried and the leaf upright.
The seedbed is regularly watered and is prevented from drying especially during the first week of establishment.
After about 2 weeks, when the seedlings have developed enough roots, they should be transplanted into the field. They should be removed from the seedbed with care to avoid damaging the roots.

Transplanting

should be done in the late afternoon to avoid excessive evaporation and wilting.




Degeneration of planting material


When sweet potato is vegetatively propagated for a number of generations, yield decline is often observed. This is usually due to a build-up of viruses, many of which show no obvious symptoms. This often gives the impression that a new variety (carrying few viruses) yields much better than traditional varieties, when in fact it may be no better after a year or two when viruses have accumulated.

Viruses can be removed by heat treatment and meristem culture (from research institutions). This process usually results in a yield increase from 20 to 200%, of both vines and roots, depending on the severity of the original virus infestation. The higher yield may be maintained for several years in the field, before the virus load has built up again.



Planting method


After ridges or mounds are formed, the sweetpotato cuttings are planted by burying the lower part in the top of the ridge or mound. A hole may be made with a stick or by hand, and the soil gently pressed around the inserted cutting. The stem is usually placed at an angle. Some workers claim that cuttings oriented across the ridge yield better than those oriented along the ridge. In ridge planting systems, ridge spacing is typically 90-120 cm, and in row spacing is 20-30 cm (3-5 plants per metre). Generally, a higher plant density results in lower yield per plant but higher yield per hectare. Close spacing is used with short growing seasons, and wider spacing may be preferred where the market prefers larger storage roots.
For mounds, the size and spacing of the mounds depends on soil conditions. They may be 75-200 cm apart, and may be planted with several cuttings per mound.
Some farmers plant 2 cuttings at each mound, but there is little evidence that this is advantageous. It has been reported that single cuttings produce a higher proportion of large storage roots.



Varieties

Farmers plant a mixture of varieties, mostly based on yield, performance, maturity, culinary values and

tolerance

to pests. This strategy reduces the risk of failure since the varieties have different useful characteristics. Sweet potato varieties planted in north-eastern Uganda are presented in the table below.



Sweet potato varieties grown in North-Eastern Uganda



Variety

Characteristic

"Osukut"
Early maturing, good yield, sweet, good marketability.
"Araka Red"
Early maturing, good yield, tolerant to

Cylas

spp.
"Araka White"
Early maturing, good yield.
"Lira Lira"
Early maturing, good yield.
"Ateseke"
Good yield.
"Igang Amalayan"
Early maturing, good yield.
"Latest"
Early maturing, good yield, sweet.
"Osapat"
Good yield.
"Ekampala"
Good yield.
"Tedo Oloo Keren"
Good yield, tolerant to

Cylas

spp.
"Odupa"
Tolerant to

Cylas

spp.
Source: Ebregt et al, 2004.




Some of sweet potato varieties grown in Kenya



"SPK 013"
Recommended for the western zone including the Lake basin
"SPK 004"


| | | |
| --- | --- | --- |
| © A. Bruntse, Infonet | © A. Bruntse, Infonet | © A. Bruntse, Infonet |

Suitable for most areas in the country. Planting material available at KARI Katumani. Red skin color, cream flesh. Popular high yielding variety
"Kemb 20"
"Kemb 23"
Suitable for Central and coastal lowlands
"Kemb10"


| | |
| --- | --- |
| © A. Bruntse, Infonet | © A. Bruntse, Infonet |

Suitable for most areas in the country. Planting material available at KARI Katumani. White skin color, white flesh. Popular high yielding variety.
"KSP20"
Good performance in dry areas
"KSP11"
Good performance in dry areas
"Simama"
"Japaneese"
"Mugande"
"Muibai" ("Kemb 36")
"NASPOT 1 "
Popular variety in Ukambani, High dry matter content in tubers. Planting material available at KARI Katumani
"Ex-Diani"
Suitable for central and coastal lowlands
"Mafuta"
Best for foliage production. Good for all areas.
"CIP 420009"
Good performance in dry areas
"Mtwapa 8 "
Suitable for coastal and eastern lowland areas
Attributes of some sweet potato varieties grown in Kenya
Variety

Maturity (months)

Tuber yield (100 kg bags/acre)

Skin colour

Flesh colour

"Enaironi"
3-4
65-70
White
Orange
"Ex-Mukurweini "
3
60-65 t/ha foliage
Fodder
Fodder
"Ex-Simba "
3-4
70
Red
White
"Kanchwere "
6-7
40-50
Red
Orange
"Kemb 10 "
3-4
70
White
Cream
"Kemb 20"
4-5
75
Red
White
"Kemb 23 "
5-6
90
White
Cream
"Kemb 36 "
5-6
35
Red
White
"KSP 20 "
3-4
95
Red
White
"KSP 47 "
3-4
70
Red
Light Orange
"KSP 72 "
3-4
70
Red
Light Orange
"KSP 84 "
3-4
70
Red
Orange
"KSP 154 "
3-4
70
Red
Orange
"Musinya "


© N. Kinuthia, Infonet

3
90-95 t/ha foliage
Fodder
Fodder
"NASPOT"


© A. Bruntse, Infonet

3.5-4.5
80-90
Light brown
Orange
"SPK 004"


© N. Kinuthia, Infonet

3-4
80
Light brown
Orange
"Tainung "
3-4
80-90
Light brown
Orange
Popular sweet potato varieties in South Western Kenya (KARI Kisii)
Variety

Tuber yield (100 kg bag/acre)

"Bungoma"
40-50
"Gikuyu"
40-50
"Kalam Nyerere "
40-50
"K117"
Vine yield 23 t/ha foliage
"Mugande "
40-50
"Mwavuli"
Vine yield 20 t/ha foliage
"Namaswakhe"


© N. Kinuthia, Infonet

40-50
"Nyakabondo"
40-50
"Nyakathuri"
40-50
"Nyawo/Amina/Misambi"


© N. Kinuthia, Infonet

40-50
"Odinga"


© N. Kinuthia, Infonet

40-50
"Polista"
40-50




Husbandry

Weed infestation during the first 2 months of growth poses a problem in stand development, and requires adequate control to ensure high yield. Thereafter, vigorous growth of the vines covers the ground effectively and smothers weeds. In the tropics, manual weeding is generally practised.

Sweet potato responds well to fertilisation, particularly if the land has been continuously cropped. However, fertiliser is seldom applied in the tropics. Manure or good compost should be incorporated to improve soil fertility. This is a common practice in smallholdings and traditional agriculture. Sweet potato is used in a wide variety of cropping systems around the world. Rotating sweet potato with other crops such as rice, legumes and maize is desirable to control diseases, pests and weeds.

Intercropping

sweet potato with other crops is very common in Africa.



Nutritional deficiencies

can be determined using the guide provided in the website of the International Potato Center: http://www.lucidcentral.org/keys/sweetpotato



Harvesting

The harvesting period of sweet potato storage roots is not clearly defined; it varies with

cultivar

, cultural practices and climate. 'Progressive harvesting' (piece-meal harvesting) is common practice in tropical countries where sweet potatoes are grown for home consumption. It is generally recommended to harvest within 4 months to prevent weevil damage. In the tropics, manual harvesting using implements such as a stick, spade or hoe is practised.



Sweet potato weevil (Alcidodes erronus)
The sweet potato weevil is the most destructive insect pest of sweet potato in the tropics and subtropics. No resistant source is available.

Farmer experience: In Kilifi, Kenya, farmers create planting mounds or ridges incorporating a good amount of fresh leaves of Lantana camara before planting sweet potatoes. This improves soil organic matter and at the same time serves as a repellent of the sweet potato weevil, thus improving both yield and quality of harvested tubers. The superior quality of sweet potatoes grown using Lantana leaves have been confirmed by Ministry of Agriculture staff in the area.
What to do:
Rotation with cereals and forage crops.
Eradicate

Ipomoea

weeds.
Use clean planting material, deep planting and regular hilling to fill soil cracks around plants.
Flood to drown the weevils.
Hill up to prevent or fill soil cracks.
Irrigate to prevent soil cracks
Mulch to keep the soil moist and prevent cracks, and provide a more favourable environment for

natural enemies

.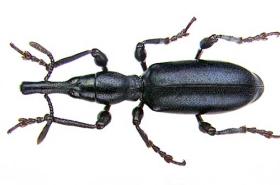 Sweet Potato Weevil
Sweet Potato Weevil
. Adults are entirely black, with a body length of 6-8 mm.
© Courtesy EcoPort (http://www.ecoport.org): Georg Goergen,

Sweet Pota…

Sweet pota…
Termites (Coptotermes formosanus)
Occasionally termites can be a problem by attacking the seed pieces or the roots and stems of established plants. Yield losses can be very high. In Sudan losses of 18 % have been recorded and in Central Africa losses of 5-10% are common. In Nigeria plant germination failure of up to 28 % has been reported. The most common damage to sugar cane is the destruction of the planting material (setts).
What to do:
Deep plough or tillage to expose termites to desiccation and to predators, thus reducing their number in the crops. Pre-planting tillage also destroys the tunnels built by termites and restricts their foraging activities.
Plant early with the rain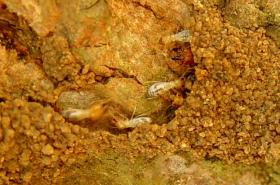 Close-up of
termites on mango stem
(
Coptotermes formosanus
)
© A. M. Varela, icipe
Root-knot nematodes (Meloidogyne spp.)
The nematodes belong to Meloidogyne spp.. Symptoms consist of poor growth, yellowing of foliage and or wilting of plants during dry hot weather. Root swellings or galls develop on feeder roots. Harvested roots often are misshapen, cracked, and rotted on the surface.
What to do:
Use resistant varieties, if available.
Rotate with cereals and forage grasses.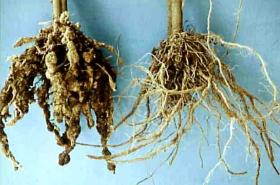 Root-knot nematodes
Root-knot nematodes
(
Meloidogyne incognita
/
M. javanica
) Roots of severely attacked (left) and healthy plant (right). Affected plants are normally stunted and eventually wilt and die. The most characteristic
symptom
is formation of root galls (knots) and these can be seen with the naked eye. Affected roots rot.
© A. M. Varela, icipe
Millipedes
Apart from insects other pests reported to cause damage to sweet potatoes are millipedes. They are also known as "thousand-legged worms" or "Mombasa train". They have many legs (30-400) with a hard-shelled, round segmented body and are up to 30 cm long. They are brown to blackish brown in colour. They move slowly and curl-up when disturbed. Millipedes lay eggs single or in clusters of 20-100 in the soil. They live in moist soil and congregate around the plants in soil that is rich in organic content. They dry out easily and die. Thus, they seek wet places, such as compost piles, leaves and other plant debris, to hide under during the day.

Millipedes have recently become important pests of sweet potato in some areas of East Africa. Infestation tends to be severe at the beginning of the long rainy season often causing farmers to plant late. According to farmers in Uganda, millipedes generally do not affect the roots until 5 months after planting. They may be a problem when harvesting of sweet potato is delayed, especially if the roots are stored 'in-ground on the plants' during the dry season and harvesting is done at the first rains of the following growing season. Millipedes maybe a problem in nurseries located in shady sites (for example under a tree), especially if the nurseries are used for long time.
What to do:
In areas where millipedes are a problem, do not rotate sweet potatoes with crops that are also attacked by millipedes, in particular groundnuts, and to a lesser extent cassava and beans.
Some varieties are perceived by farmers in Uganda to have some

tolerance

to millipede damage: "Araka White","Tedo Oloo Keren", "Latest", "Lira Lira", "Odupa", "Ajara", "Bibi", "Chapananca", "Dyong Bar", "Josi-Josi" and "Acan-Kome-Tek".
Millipedes
Millipedes
are brown to blackish in colour and curl-up when disturbed.
© Darkone, wikipedia
Domestic and wild animals
Domestic animals (e.g. pigs, cows and goats) and wild animals (e.g. wild pigs, porcupines, baboons, monkeys, elephants, hippos, guinea fowl) can cause serious damage to sweet potatoes.
What to do:
The presence of hedges or thorn fences may act as deterrents against some of these pests.
Domestic animals can be tethered. This is particularly important during the planting material production time when there is a high incidence of damage due to grazing by straying livestock.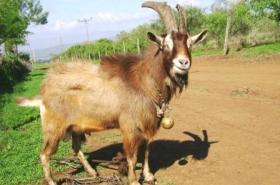 Domestic Animals
Mature pedigree
Toggenburg buck
© Valerie Corr, Kenya

Domestic A…

Domestic A…
Rats
Rats and mole rats occasionally feed on sweet potato storage roots either by digging through the ridges or accessing the exposed roots. They often spoil more roots than they actually eat. Rats and mice breed in burrows, destruction of these burrows can help reduce populations. Rodents like to hide in vegetation and rubbish, as they do not like crossing open spaces where they may be seen and exposed to predation, keeping the field and surrounding areas clean should reduce damage.
What to do:
Some farmers dig a deep ditch around the perimeter of their field to deter rodents from digging tunnels straight into their fields.
Traps can be set but care must be taken to ensure they are placed in locations where livestock and children will not interfere or get hurt by them.
In areas of Tanzania farmers reported spreading the leaves of the local shrub 'intwinti' as a repellent.
In Western Kenya a mixture of cow dung and pepper is made, placed in the burrows and then burnt to smoke the rodents out.
Experiments showed that mole rat damage to cassava could be reduced by planting on mounds rather than ridges, and by planting the deep rooted, poisonous shrub

Tephrosia vogelii

in the field (CIP, the VITAA Partnership).
Farmers in Wangige, Kenya chase away mole rats by pouring fermented cattle urine (one week old) into their burrowing holes. They report this method as being very effective.
Do not kill mongoose, snakes, owls and other birds as they are very good predators of rats.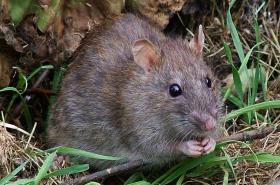 Rat
Wild Rat
© Reg Mckenna, wikipedia
The sweet potato butterfly (Acraea acerata)
It is found in all sweet potato production areas in Eastern Africa, but is only considered an important pest in relatively dry areas. The adults are butterflies with orange wings with black margins. These butterflies are capable of flying distances of several kilometres. They lay small, pale yellow eggs in clusters on leaves. Caterpillars are greenish-black and are covered with short-branched spines. Fully-grown caterpillars are about 25 mm long. Caterpillars feed on leaves of sweet potato. Young caterpillars feed in groups on the upper leaf surface protected by a layer of webbing for the first two weeks.

Older caterpillars become solitary and nocturnal hiding on the ground during the day. They eat the whole leaf leaving only the midribs. Heavy attack may result on complete defoliation. Mature caterpillars crawl up supports such as tall grasses, leaves or walls near the sweet potato field in order to find a site to pupate in vertical position. The pupae are yellowish and hang singly on their support. The total lifecycle takes 27-50 days. Caterpillars are attacked by predatory ants, ladybird beetles, lacewings and dragonflies. The fungus Beauveria bassiana has been observed on caterpillars in the field during the rainy season.
What to do:
Look for sweet potato butterflies and damage early in the season and destroy caterpillars in webs.
Use clean non-infested planting material.
Plant and harvest early. This enables the crop to escape heavy attacks.
Intercropping sweetpotato with onion/or the silver leaf desmodium (

Desmodium uncinatum

) might reduce the number of eggs laid by the females (CIP, the VITAA Partnership)
Beet armyworm (Spodoptera exigua)
Armyworms may damage sweet potatoes. Young caterpillars scrape sweet potato leaves, while the older caterpillars feed producing large irregular holes and may leave only the veins. Mature caterpillars measure up to 4 cm long and are generally black, heads faintly mottled with dark brown spots and with light yellow stripes at their backs (IRRI, 2001).

Predatory bugs, carabid beetles, spiders and wasps attack the caterpillars, and many parasitic wasps are also known to attack armyworms. Fungal diseases have been observed infecting caterpillars in the field.
What to do:
Eliminate weeds
Collect and destroy leaves containing eggs and caterpillars
Light traps can be hung over basins of water in the field to trap the adults at night
When necessary the biopesticide Bt can be used for control of this pest. For more information on Bt click here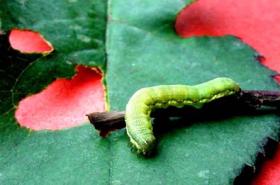 Beet armyworm
Fully grown larva of beet armyworm (
Spodoptera exigua
)
© A.M. Varela, ICIPE
Sweet potato hornworm or the hawk moth (Agrius convolvuli)
Adults are large grey hawk moths with black lines on the wings and broad incomplete pink bands on the abdomen. The female lays small spherical greenish eggs singly on either surface of the leaves. Caterpillars have a conspicuous posterior horn. They are variable in colour, usually greenish or brownish. Fully-grown caterpillars are large (up to 9.5 cm long and 1.4 cm broad). They pupate in the soil.

Caterpillars feed on leaves, causing irregular holes. They may eat the entire leaf, leaving only the petiole. Insect frass can often be found near the infested plant part. One large caterpillar can defoliate a plant on its own. When older caterpillars are present in large numbers they can defoliate a field overnight. Yield losses can occur if heavy defoliation takes place when the crop is young. But, if the young plants are healthy and growing well, they can recover. However, damage to the leaves may delay harvest, increasing the likelihood of attack by the sweet potato weevil.

What to do:
Hand-pick caterpillars from leaves. This is usually feasible in small areas.
Turning the soil over between crops exposes the pupae to predators and desiccation..
Light traps can be used to monitor the population of moths.
Manual removal of small caterpillars can prevent the build-up of a large population of older caterpillars.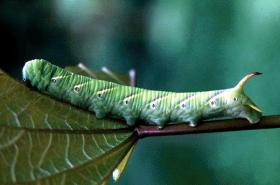 Sweet potato hornworm
Mature larva of
Sweet potato hornworm larvae
(
Agrius convolvuli
) on
Merremia peltata
. Mature larvae reach 9 - 10 cm in length.
© Reproduced with permission of Matthew Cock. Reproduced from Crop Protection Compendium 2006 Edition.
Tortoiseshell beetles (Aspidomorpha spp.)
Adults are broadly oval and shield-like, 6-8 mm long, and may be brightly coloured. They lay eggs singly or in batches on the underside of sweet potato leaves; sometimes the eggs are covered by a papery layer. The larvae are oval, flattened and spiny. Some species of tortoiseshell beetle larvae hold their tails up over their back, usually with excreta and previous cast skins. The pupa is less spiny than the larva, and is fixed to the leaf.

Both larvae and adults feed on leaves. The young larvae scrape on the upper surface of the leaves leaving the lower surface intact, while older larvae and adults eat large round holes in the leaves. Severe attacks can sometimes skeletonise the leaves and peel the stems. The damage on leaves is conspicuous, but generally is not of economic importance.
What to do:
Usually control is not necessary, removal of nearby alternative host plants may reduce the tortoiseshell beetle populations.
Alternatively, planting far away from alternative host plants may help reducing damage to sweet potatoes. Alternative host plants include morning glory, coffee, potatoes, beets, and various flowers.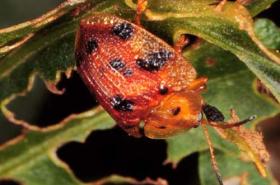 Tortoiseshell beetle
Tortoiseshell beetle
(
Aspidomorpha
sp.).
© Courtesy EcoPort (http://www.ecoport.org): P. Ooi P. / B.M. Shepard
Whiteflies (Bemisia tabaci)
Whiteflies feed on the lower leaf surface. Direct damage by adults and nymphs sucking sap from the plant, is generally not economically important. However, high numbers of whiteflies may affect plant development, particularly during period of water stress and drought. They are more damaging as vector of virus diseases.
What to do:
Conserve

natural enemies

. Parasitic wasps and predators such as predatory mites, ladybird beetles, and lacewings are important in natural control of whiteflies.
Spray neem extracts. Neem products inhibit growth and development of immature stages, repel whitefly adults and reduce egg laying.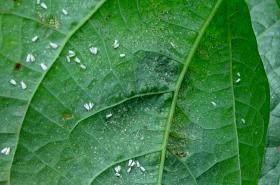 Whiteflies under leaf
Whiteflies under leaf
. Adults are small (1-3 mm long).
© A.M. Varela, icipe
Aphids (Aphis gossypii and other species)
Aphids suck sap from leaves and stems. They may cause considerable damage during periods of water stress. Aphids are vectors of virus diseases.
What to do:
Conserve

natural enemies

. Aphids are attacked by a wide range of

natural enemies

, which are very important in natural control of these pests.
Use reflective mulches. Reflective aluminium mulches deter aphids from landing on plants. The effect is lost once plants are large enough to cover the

mulch

.
Neem extract and soap sprays have been reported effective against aphids. For more information on neem click here. For more information on soap sprays click here.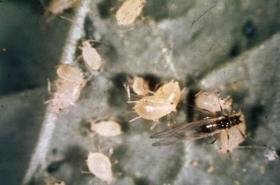 Aphids
Cotton aphid
(
Aphis gossypii
) is a small aphid. Adults range from just under 1-1.5 mm in body length.
© Mississippi State University Archive, Mississippi State University, Bugwood.org
Eriophyid mites (Aceria sp)
They causes hairiness on sweet potato, a common problem in many parts of East and Southern Africa also known as "erinose". Eriophyid mites are tiny, much smaller than the spider mites (about 0.2 mm long) and look like a speck of dust. They are not visible with the naked eye. The mites feed in the buds and on young foliage of sweet potato plants, injecting growth substances into it, which induce the plant to produce a dense mat of hairs. As a result the stems, leaf petioles, buds and undersides of leaves become covered with a dense layer of white hairs. The leaves and plants are also generally slightly stunted; the leaves and stems thickened, and the plants yield poorly.

Occasionally, whole crops are affected but often the symptoms affect just one or a patch of plants, and often only particular varieties. The mites invade crops by being blown like dust particles in the wind.
What to do:
Little is known about them despite their commonness and little is known about how to control them.
Some varieties of sweet potato seem more prone to infestation than others but no research has been done so far. Where hairiness is a problem, farmers could plant varieties that are least affected.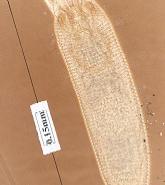 Eriophyid mite
Adult eriophyid mite:
This is a microphotograph, notice the rings of the body; average length is about 0.15mm.
© Courtesy EcoPort (http://www.ecoport.org): M.S.Gassouma
Black rot (Ceratocystis fimbriata)
The disease is caused by the fungus Ceratocystis fimbriata. Dark circular spots appear on infected roots. These spots can expand to cover much of the sweet potato. Small black fungal fruiting bodies (perithecia) develop and are visible at the centre of the spots. The diseased tissue is darkened and bitter in taste. On young sprouts black spots develop eventually encircling the plant causing dwarfing, yellowing of the foliage and finally death.

The fungus survives in the soil in diseased plant debris and also in diseased stored roots. The disease is favoured by temperatures near 25° C and moist soil conditions. In storage, decay progresses most rapidly in moist conditions at temperatures of 14 to 27° C.
What to do:
Plant disease-free sprouts.
Practise a 3-year rotation and proper weeding.
Do not wash roots in water after harvest as contaminated water may spread the disease from infected roots to healthy.
Follow good sanitary practices in packing and storage buildings.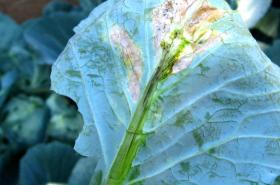 Black rot
Black rot
on cabbage leaf (internal
symptom
). Note blackening of veins.
© A.A. Seif, icipe
Diplodia black storage rot (Botryodiplodia theobromae (Diplodia tubericola))
The disease is caused by the fungus Botryodiplodia theobromae (Diplodia tubericola). It affects sweet potatoes in storage. The inner part of the infected edible root becomes black and brittle. Many tiny black fungal bodies (pycnidia) form just below the sweet potato skin giving the root a pimply appearance. Infection occurs through broken ends and abrasions on storage roots. Wet conditions favour disease spread and development.
What to do:
Use disease-free sprouts.
Harvest roots carefully to minimise injuries.
Do not store injured or wounded roots.
Practise good storage hygiene and management.
Ensure good ventilation in the store.
Fusarium wilt (Fusarium oxysporum f. sp. batatas)
It is caused by the fungus Fusarium oxysporum f. sp. batatas. Initial symptoms on sweet potato are yellowing of the leaves. Leaves later wilt and fall off, stunting results and eventually death of the plant. Death of the stem vascular bundles occurs with brown to purple coloured when split; this may be accompanied by cracking of the stem. The vines may turn tan to light brown. Diseased plants may manage to produce storage roots, but these usually have some discoloured, infected vascular tissues. Rot may follow in storage or the disease may be transmitted to the next crop by infected cuttings. Dying vines often have pinkish fungal growth.
What to do:
Use resistant varieties, if available.
Use disease-free planting stocks.
Avoid fields with a history of wilt.
To reduce infection near

transplanting

time is to hold transplants for 24 hours at 29°C to promote

suberisation

of the injured surface, also yield loss can be reduced by planting more than one transplant per hill. Even though the percent of plants affected is not reduced, yield per unit land is maintained because there is less chance that all plants in a hill will be killed and also because productivity is similar for single-plant and multiple-plant hill.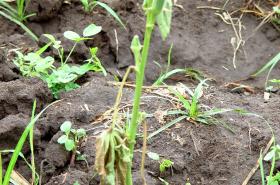 Fusarium wilt
Wilting of okra plant due to
fusarium wilt
© A.M. Varela & A.A.Seif, icipe

Fusarium w…

Fusarium w…
Mild mottle virus
It is caused by a potyvirus (sweet potato virus B/ sweet potato virus T/ sweet potato ipomovirus). The virus is transmitted by whiteflies (Bemisia tabaci). The virus has a wide host range including tomato, tobacco and ornamental species. Symptoms of the disease include leaf mottling and plant stunting. The wishbone flower (Torenia fournieri) is a potential wild reservoir host in East Africa.
What to do:
Use plant resistant varieties: (e.g. in Uganda the variety "Namujuna").
Use disease-free planting material.
Isolate new plantings from old plantings.
Control the virus vector (whiteflies). For more information on how to control whiteflies click here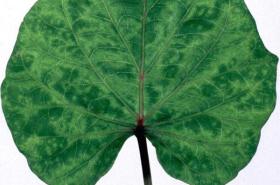 Mild mottle virus
Mild mottle virus
symptoms on sweet potato leaf
© Alan A. Brunt. Reproduced from the Crop Protection Compendium, 2006 edition. Wallingford, UK
Sweet potato virus complex
This disease is caused by a combination of sweet potato feathery mottle virus (SPFMV) and sweet potato chlorotic stunt virus (SPCSV).
Symptoms include severe stunting of plants, the production of small distorted leaves, excessive branching, yellowing of vines and dark, brown to blackish corky spots in the roots. SPFMV is a potyvirus transmitted by aphids in a non-persistent manner whereas SPCSV is a crinivirus transmitted in a semi-persistent manner by the whitefly Bemisia tabaci.
What to do:
Use resistant or tolerant varieties, if available.
Use disease-free planting material.
Avoid diseased plants as sources of planting material.
Practice proper field sanitation.
Control the virus vectors. For information on how to control aphids click here. For information on how to control whiteflies click here.
AVRDC International Cooperator's Factsheet on Sweet Potato Vine Borer: www.avrdc.org
Agricultural Information Centre, Nairobi, Kenya (2002). Field Crops Technical Handbook
Blay, E., Cudjoe, A. R. and Braun, M. (eds).(2000). Handbook of crop protection recommendations in Ghana: An

IPM

approach. Vol. 3: Root and Tuber Crops, Plantains.Published byPlant Protection and Regulatory Services Directorate (PPRSD). with support of the German Development Cooperation (GTZ). ISBN: 9988-8025-6-0.
CAB International (2005). Crop Protection Compendium, 2005 Edition. Wallingford, UK
CIP website: www.cipotato.org
CIP. Manual for Sweet potato Integrated Production and Pest Management Farmer Field Schools in Sub-Saharan Africa. The VITAA Partnership.Last Updated June 16, 2004. www.cipotato.org
Dunguni FFS (Farmer Field School), Kilifi, Kenya
Ebregt, E., Struik, P.C., Abidin, P.E. and Odongo, B. (2004). Farmers' information on sweet potato production and millipede infestation in northeastern Uganda. I. Associations between spatial and temporal crop diversity and the level of pest infestation. www.library.wur.nl
Ebregt, E., Struik, P.C., Abidin, P.E., Odongo, B. (2004). Farmers' information on sweet potato production and millipede infestation in North-eastern Uganda. II. Pest incidence and indigenous control strategies. NJAS - Wageningen Journal of Life Sciences 52: 69-84. www.library.wur.nl
Hill, D. (1983). Agricultural insect pests of the tropics and their control. 2nd edition. Cambridge University Press. ISBN: 0-521-24638-5.
Nutrition Data www.nutritiondata.com.
Smit, N.E.J.M. (1997).

Integrated pest management

for sweet potato in Eastern Africa. PhD thesis Wageningen University, Wageningen, 151 pp.
Wangige

Organic

Farmers Self Help group, Wangige, Central province, Kenya.
Youdeowei, A. (2002).

Integrated Pest Management

Practices for the Production of Root and Tubers and Plantains.

Integrated Pest Management

Extension Guide 3. Ministry of Food and Agriculture (MOFA) Plant Protection and Regulatory Services Directorate (PPRSD), Ghana, with German Development Cooperation (GTZ). ISBN: 9988-0-1087-7.