Watermelon
Watermelon

Family:

Order: Cucurbitales

Family:

Cucurbitaceae

Local names:

Tikiti maji (Swahili)

Pests and Diseases:

Angular leaf spots Anthracnose Aphids Damping-off diseases Downy mildew Epilachna beetles Flea beetles Fruit flies Fusarium wilt Powdery mildew Root-knot nematodes Scab Spider mites Virus diseases Whiteflies Angular leaf spot, Epilachna Beetles, Flea Beetles, Scab, Virus Diseases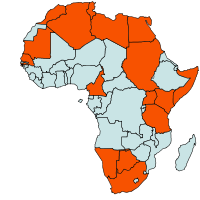 Geographical Distribution of Watermelon in Africa
Watermelon (
Citrullus lanatus
) is a member of the cucurbit family (
Cucurbitaceae
), which also includes cantaloupes, cucumbers, pumpkins, squash, zucchini and butternuts. It is indigenous to the dry plains of tropical and subtropical Africa, perhaps in the general area of present day Botswana. It is one of the most widely cultivated crops in the world. Its global consumption is greater than that of any other cucurbit. It accounts for 6.8% of the world area devoted to vegetable production. The principal watermelon producing countries are China, Turkey, Iran, United States and Egypt. China produces over 50% of the world supply. China and Turkey have the largest area devoted to watermelon production. FAO lists watermelon production in 101 countries. Watermelon is a good cash crop in Kenya with very good market opportunities, particularly in urban areas.
Gross margin
per ha for watermelon variety "Charleston Gray" in Embu area of Kenya is Kenya shillings 138,409 (AIRC, 2003).
Watermelons range in shape from round to oblong or even square as in Japan where farmers found a way to grow cubic (square) watermelons, by growing the fruits in glass boxes and letting them naturally assume the shape of the box. The square shape is designed to make the melons easier to stack and store, but they are often more than double the price of normal ones. Rind colour of watermelons can be light to dark green with or without stripes. Flesh colour can be red, dark red or yellow.
The watermelon is often large enough that groceries often sell half or quarter melons. There are also some smaller no more than 3 kg, spherical varieties of watermelon, both red- and yellow-fleshed, sometimes called "icebox melons" or "miniwatermelons"
Nutritive Value per 100 g of edible Portion
Raw or Cooked Watermelon

Food
Energy
(Calories / %Daily Value*)
Carbohydrates
(g / %DV)
Fat
(g / %DV)
Protein
(g / %DV)
Calcium
(g / %DV)
Phosphorus
(mg / %DV)
Iron
(mg / %DV)
Potassium
(mg / %DV)
Vitamin A
(I.U)
Vitamin C
(I.U)
Vitamin B 6
(I.U)
Vitamin B 12
(I.U)
Thiamine
(mg / %DV)
Riboflavin
(mg / %DV)
Ash
(g / %DV)

Watermelon, raw

30 / 2%
7.5 / 3%
0.2 / 0%
0.6 / 1%
7.0 / 1%
11.0 / 1%
0.2 / 1%
112 / 1_%
569 IU / 11%
8.1 / 13%
0.0 / 2%
0.0 / 0%
0.0 / 2%
0.0 / 1%
0.3
*Percent Daily Values (DV) are based on a 2000 calorie diet. Your daily values may be higher or lower, depending on your calorie needs.



Nutrition

A watermelon contains about 6% sugar and 92% water by weight. As with many other fruits, it is a source of vitamin C. Notable is the inner rind of the watermelon, which is usually a light green or white colour. This area is edible and contains many hidden nutrients that most people avoid eating due to its unappealing flavour. Watermelons contain a significant amount of citrulline whose beneficial functions are now being unraveled. Among them is the ability to relax blood vessels, much like "Viagra" does to treat erectile dysfunction and maybe even prevent it. Scientists know that when watermelon is consumed, citrulline is converted to arginine through certain enzymes. The citrulline-arginine relationship helps heart health, the immune system and may prove to be very helpful for those who suffer from obesity and Type 2 diabetes (Texas A & M University, 2008).

Watermelon rinds are also edible, and sometimes used as a vegetable. In China, they are stir-fried, stewed or more often pickled. When stir-fried, the de-skinned and de-fruited rind is cooked with olive oil, garlic, chilli peppers, scallions, sugar and rum. Pickled watermelon rind is also commonly consumed in the Southern US. Watermelon juice can also be made into wine. Watermelon is also mildly diuretic. It contains large amounts of beta carotene. Watermelon with red flesh is a significant source of lycopene, which is associated with cancer risk reduction. The flesh has an average of 4100 microgram/100 g (range 2300-7200) lycopene compared to an average of 3100 microgram/100 g in raw tomato, 3362 microgram/100 g in pink grapefruit, and 5400 microgram/100 g in raw guava.





Square watermelon

in Japan
© Laughlin Elkind, wikipedia
Varieties
There are over 1200 varieties of watermelons worldwide and a wide variety of watermelons have been cultivated in Africa. Several of these varieties have been recommended for Kenya range of climate. These include:
"Charleston Gray" (open pollinated, matures in 55-60 days, rind colour is light green with light stripes, deep red flesh colour, fruit shape oblong, fruit weight 10-16 kg, tolerant to

Fusarium

wilt and anthracnose, excellent for shipping, popular in Kenya)
"Congo" (matures in 90 days, round melons reach 16 kg, green stripes, sweet red flesh and thick rinds)
"Crimson Sweet" (open pollinated, matures in 90-120 days, rind colour light green with broad dark green stripes, flesh colour brilliant red, fruit shape blocky oval, fruit weight 7-9 kg, high yielder and good shipping qualities, resistant to extreme heat, popular in Kenya)
"Moon and Stars" (matures in 95 days, dark green skin with yellow spots resembling moon and stars in the night sky, melons weigh 9-18 kg, pink to red flesh)
"Orangeglo" (matures" in 90 days, very sweet and crisp, oblong-shaped melons 9-14 kg, bright orange flesh with off-white seeds)
"Sugar Baby" (open pollinated, matures in 60-75 days, rind colour greenish black, flesh colour deep red, fruit shape round, fruit weight 7-8 kg, very popular in Kenya, suitable for shipping and long transport)
"Sunday Special" (seedless variety, rind colour dark green with black stripes, flesh colour red, fruit shape oval, fruit weight 6-10 kg)
Because varieties and market trends change all the time, consult your local seed company, buyer or extension officer for the latest information on the available varieties.
Watermelons

displayed in a Nairobi supermarket. Crimson Sweet in stripes & Sugar Baby dark green.
© A.A. Seif

Sugar Baby watermelons

in a trolley in a Nairobi supermarket
© A.A. Seif

Crimson Sweet

© A. A. Seif
Notice

, that on some of the Sugar Baby melons there are yellow patches where the melon has rested on the ground. When this patch turns yellow it means the watermelon has reached maturity. It is not wise to harvest much before the patch turning yellow, as unripe watermelons are such a disappointment to buy.





Ecological requirements

Altitude

Watermelons can grow at altitudes of up to 1500 m, Best growing areas are the lowlands with high temperatures and relatively low rainfall where irrigation may or may not be necessary




Temperatures

They grow best under hot temperatures. They do well at temperatures of between 22 and 280 C. Stagnation of growth occurs at temperatures less than 150 C.




Rainfall

Watermelon production is suited in low to medium rainfall areas with additional irrigation. Optimum rainfall requirement per cropping season is 600 mm and 400 mm is considered minimum. Excessive humidity may favour leaf diseases and also affect flowering.




Sites and soils

Watermelons grow best on sandy loam soils which are well drained and slightly acid. When planted on very heavy soils, the plants develop slowly, and fruit size and quality are usually inferior. Fine sands produces the highest quality melons when adequate fertiliser and water are provided. Windbreaks are advisable on sandy soils to reduce "sand blast" damage and stunting to young seedlings during strong winds. To reduce the risk of diseases, do not plant on land where

cucurbits

have grown during the past three years. Well drained heavy soils can also be used. The soils should be rich in

organic

matter. Watermelon is fairly tolerant to soil pH as low as 5.5. However, a slightly acid soil with a pH of 6.0 to 6.5 is ideal.

Watermelon is known to be sensitive to manganese toxicity, a common problem in low pH soils. Seedling watermelons react to manganese toxicity with stunted growth and yellowish crinkled leaves. Older plants generally exhibit brown spots on older leaves that may be mistaken for symptoms of gummy stem blight. Manganese toxicity is usually associated with soils having a pH below 5.5. However, in wet seasons the condition may occur at higher pH levels when the soil has been saturated for a period of several days. This condition has been noted in several watermelon fields with pH ranges at 5.8 or slightly higher when the crop was planted flat. Planting watermelons and other

cucurbits

on a bed is good insurance against manganese toxicity during a wet season. The best solution to manganese toxicity is to apply lime at rates based on the results of a soil test.





Propagation

Watermelon is propagated by:
Seeds, directly planted in the field.
Transplants: there is a trend towards greater use of transplants by commercial growers because of the precise requirements for seedless (triploid) watermelon seed germination and the uniformity of the resulting crop. Instead of planting directly in the field and have 3 weeks of accumulated weeds germination and insect attacks to battle with, planting of seeds in seed trays in a protected area for later transplant into the field when at least 2 permanent leaves have developed, is a very viable option. Seed trays of various design and cost are widely available from seed merchants.
Watermelon is grafted in some production areas, most notably in Japan and Korea, where nearly all of the plantings utilise this technique. Grafted watermelon also is widely used in China, Spain, and Italy. Grafting on to rootstocks resistant to

Fusarium oxysporum

and those tolerant of cold soils are the primary reasons for grafting. Popular rootstocks for watermelon are bottle gourd (

Lagenaria siceraria

), interspecific hybrid squash (

Cucurbita maxima x C. moschata

), or wild watermelon (

Citrullus lanatus var. citroides

). Commonly used grafting methods for watermelon are hole insertion, tongue approach, and cleft. With the ban on the use of the broad-spectrum soil fumigant methyl bromide, it is likely that grafting will be used even more in the future and for more uses other than those already invoked. Grafted watermelon plants produce fruit with firmer and redder flesh over a longer period of time. The grafted watermelons produce more fruit per plant with better quality to justify their higher cost. Grafted watermelon, particularly on interspecific hybrid squash

rootstock

, can grow on soils with higher salt concentrations than non-grafted watermelon can tolerate.
Planting
Watermelons are grown throughout the year in lowland areas but peaks of rainy season should be avoided. At higher elevations cultivation should be done only during the warmer period of the year. The seed rate is about 3 kg/ha. Watermelon seeds germinate best when the soil is very warm (25-32°C) and the air is almost hot (28 to 33°C), as it is the case at the end of the dry season. Mix plenty of compost or manure into each planting hole; at least one shovelful for each hole. Watermelons like fertile soils high in
organic
matter. It is recommended that you apply animal manure (e.g. composted poultry manure or cattle dung) up to 10 tons per ha and rock phosphate before or at planting.
The holes are dug at a distance of about one metre within the row and about 2 metres between the rows. Plant 2 seeds per hill, placing them 3 to 4 cm (1.5 inches) deep into the soil. Water the hills thoroughly if there is no rain. At 25-30 cm high earthing up around the plant bases is recommended to prevent exposure to the sun.
For seedless watermelon production, a pollinator variety is required. Use a seeded watermelon variety with a distinctly different shape or appearance from the seedless variety that you are growing. Pollinators can be planted in rows using a 2 to 1 ratio with every third and outside row being the seeded variety.
Pollination
Watermelons produce separate male and female flowers. Male flowers are produced initially, followed by production of both sexes usually at a ratio of 1 female to 7 males. Watermelon flowers are viable for only one day. Therefore, it is important that an adequate population of pollinating insects (bees) are present every day during the flowering period. It should be noted that watermelon flowers are not nutritionally attractive to honey bees, therefore, blooming weeds or other crops can out-compete watermelons in attracting honey bees. Remove nearby flowering plants to ensure the bees work the watermelon flowers exclusively. Even with sufficient pollinators, it is not uncommon for watermelons to abort flowers. Insufficient pollination results in misshapen melons, which must be culled.
Watermelons, pumpkins, cucumbers, and zucchinis can be planted side by side. Cross-pollination can occur between
cultivars
of the same crop (e.g. watermelons and watermelons) but not between different crops (e.g. watermelons and pumpkins). Bees are necessary for pollination. Bees need to be present and active in the crop. If bees are not plentiful, then place at least 2 hives/ha, spreading them around the field perimeter and check to ensure that male flowers are producing pollen. Flowers are most receptive to pollination during the morning hours when bee activity is usually the highest. Bee activity is related to climate and is lower in cooler weather. Spraying and irrigation should be coordinated to occur when bees are least active
Irrigation
After planting, water regularly with plant or manure tea to provide additional nutrients. Well-filtered teas can also be used in a drip irrigation system. There are three critical periods where watermelons need sufficient moisture:
After planting to allow fast and even emergence.
At early bloom to prevent poor fruit set and misshapen fruit.
During fruit development to ensure good melon size.
Do not apply too much water, avoid waterlogging, and minimise wetting of the bed tops. Heavy irrigation or rainfall may also result in fruit splitting.
Weeding
Weeding should be done regularly to keep the field clean. Avoid injuring the plants when weeding.
Fruit pruning
Remove misshapen and blossom-end rot affected fruits to promote additional fruit set and better size of the remaining melons. If a market demands larger melons, remove all but two or three well shaped melons from each plant. To avoid disease spread, do not prune melons when vines are wet.
Rotation
Watermelons can be rotated with cereals, legumes or cabbages
Harvesting
Harvesting usually begins 3-4 months after planting. Maturity is sometimes difficult to determine. Useful maturity indicators are listed below, however it is still advisable to cut open a few fruits to check maturity before harvesting commences. The watermelon stem should be cut rather than pulled from the vine to avoid damage to the stem end. Do not stack fruit on their ends, as this is where the rind is thinnest. Maturity indicators include:
A dull hollow sound when the fruit is tapped with the knuckles
The change from white to cream or pale yellow of the skin area where the melon has been resting on the soil.
Shrivelling of tendrils on nodes to which melons are attached.
Slight ribbing on surface of fruit can indicate maturity in some varieties.
The Brix test is the most objective way of testing maturity. It assesses the total soluble solids (soluble solids is related to sugar content and is an indicator of sweetness) of the melon flesh. The test is becoming more popular with many retailers insisting on specific brix levels particularly in seedless varieties.
Storage
Ensure minimum handling of melons, as extra handling is expensive and may harm the fruits. Watermelons do not store well as they are susceptible to chilling injury, and are subject to decay at higher temperatures. Under the ideal conditions of 70C and a relative humidity of 80 to 90 % melons can be stored for up to two weeks.
Fruit disorders
Blossom-end rot
is caused by calcium deficiency and water stress. It is worse in hot, dry, windy conditions where moisture stress is more likely to occur. Symptoms include young fruit drop and brown rotting lesions at the blossom end of older fruit. Good water management and ensuring sufficient soil calcium availability will usually address the problem. Soil or irrigation water salinity may also promote blossom end rot. It tends to occur more readily in oblong varieties. Watermelons having blossom-end rot are unmarketable.
Internal cracking
is caused by cool temperatures during early fruit-filling period. Other influences are stop-start growth, excess nitrogen, low boron levels, or heavy infrequent watering at fruit fill. Affected melons tend to be flattened in shape and feel lighter than usual.
Spongy end
occurs in melons, which have been poorly pollinated. These melons may turn yellow and drop off the vine early in their development or partly develop with the stylar end soft and spongy. This area is also slightly pointed. Internally, there is very poor seed development at the spongy end.
White heart
is white streaks or bands of undesirable flesh in the heart (center) of the fruit. This is caused by excessive moisture (and probably too much nitrogen) during fruit maturation.
Hollow heart
is a disorder that varies among varieties. Causes are unknown.
Sunburn occurs
most frequently in varieties that have dark green rinds. "Charleston Gray" types and other melons with grey-green rinds rarely sunburn. Good healthy foliage will minimise sunburn as well as favour good yields and quality. Strong winds can blow unprotected vines away from the developing fruit along the edges of the rows and cause full exposure of the fruit to the sun.
Rind

necrosis
is an internal disorder of the watermelon rind. Symptoms are brown, corky, or mealy textured spots in the rind which may enlarge to form large bands of discolouration that rarely extend into the flesh. Experienced pickers often can detect affected melons by the subtle knobbiness that is visible on the surface of affected melons. The cause of rind
necrosis
is unknown. Bacterial infection has been reported to be a cause, although similar bacteria are found in healthy melons. Drought stress also is reported to predispose melons to rind
necrosis
.
Aphids (Aphis gossypii)
The cotton aphid (Aphis gossypii) is common on cucurbits, including watermelons. Colonies of green to blackish aphids are found on tender shoots, mainly on the lower leaf surface, where they suck sap. The growth of the attacked shoots is stunted and the leaves are curled and twisted. Aphids excrete honeydew, which leads to growth of sooty mould, and may attract fruit flies. Aphids, in particularly winged aphids, transmit virus diseases (e.g. cucumber mosaic virus) when feeding from plant to plant.
What to do:
Plant barrier crops.
Use sticky traps to monitor aphids.
Use botanicals (e.g. neem extracts).
Use reflective

mulch

(e.g. a polyethylene sheet covered with a thin layer of aluminium that is spread out on the growing bed at planting time). Covering the ground with a material like aluminium foil repel winged aphids, delay aphid colonisation and may delay virus infection.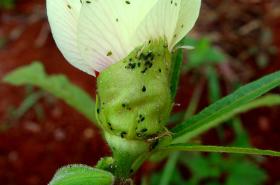 Cotton aphids
Cotton aphid
(
Aphis gossypii
) on flower
© A.M. Varela, icipe

Cotton aph…
Cotton aph…
Whiteflies (Bemisia tabaci)
They suck plant sap and excrete honeydew where moulds grow, which may affect plant growth and vigour. The tobacco whitefly is considered a major pest due to its ability to vector various virus diseases, which cause considerable damage to watermelons and other cucurbits.
What to do:
Conserve

natural enemies

. Parasitic wasps are important in natural control of whiteflies
Use reflective mulches. Reflective

mulch

repels whitefly adults resulting in delayed and reduced attack by this pest with consequent reduction in damage as shown in experiments in USA. (Summers & Stapleton 2002)
Whenever necessary spray crop with neem products. Neem-based pesticides are reported to inhibit growth and development of immature stages, and to reduce egg laying by adult whiteflies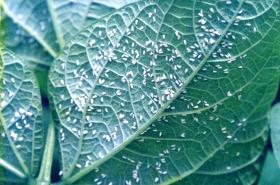 Whiteflies
Whiteflies on French beans
.
© B. Loehr
Whiteflies

Whiteflies
Epilachna beetles (Epilachna chrysomelina, Henosepilachna elaterii )
Adults of this beetle, also known as the African melon ladybird, are 6-8 mm long, reddish in colour with a number of black spots on the wing cases. The larvae are 7-9 mm in length, soft and covered with dark coloured spines. Adults and larvae feed on leaves leaving a fine net of veins. Damaged leaves shrivel and dry up. Young plants can be entirely destroyed. Older plants can tolerate considerable leaf damage. This beetle is a vector of squash mosaic virus. Epilachna beetles attack all cucurbits.
What to do:
Spray neem extracts. Simple neem-based pesticides have given control of this pest in Togo. Thus, feeding by

Epilachna

beetles could be reduced significantly by weekly applications of aqueous neem kernel extracts at concentrations of 25, 50 and 100 g/l and neem oil applied with an ultra-low-volume (ULV) sprayer at 10 and 20 l/ha (Ostermann and Dreyer, 1995).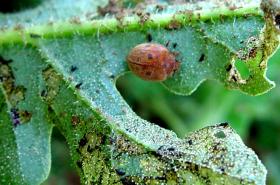 Epilachna beetle
Epilachna beetle and damage caused on watermelon
© A. M. Varela, icipe
Flea Beetles (Podagrica spp.)
They are tiny to small (1.5 to 3 mm) long leaf beetles with well-developed hind legs. They are named for their habit of jumping like fleas when they are disturbed. The colour of the adult beetles varies from black, brown, black and yellow striped or metallic blue-green depending on the species. Adult flea beetles chew small round holes (shot holes) in leaves, giving them a sieve like appearance. On rare occasions, they may feed directly on ripe fruit, just below the calyx. This damage is usually seen only in plants that show extreme foliar stress resulting from lack of water or powdery mildew. The larvae of flea beetles live in the soil and feed on roots, but the damage caused is not of economic importance. Adult flea beetles can be particularly damaging to young plants. Seedlings are most vulnerable to flea beetle feeding when stressed, particularly by inadequate moisture. Older plants can withstand considerable leaf perforation.
What to do:
Monitor the crop frequently, particularly during the first stages of the crop. Even a small flea beetle population can cause significant damage to a crop in the

cotyledon

or first-leaf stages
Provide good nutrition and favourable growing conditions. This helps to avoid plant stress from diseases and moisture, and helps plants survive flea-beetle attack.
Weed in and around fields. This may help to eliminate flea beetle shelter and

breeding

grounds, reducing crop damage.
Keep plant diversity in the farm. Living mulches or polycultures are known to reduce flea-beetle damage. Diversity in the farm support populations of

natural enemies

.
When necessary spray botanicals or other alternative products. Extracts of neem, rotenone, pyrethrin, sabadilla, garlic, onion and mint alone or in combination have been recommended for control of flea beetles. Insecticidal soap is reported to give partial control of flea beetles. However, sprays combining rotenone with insecticidal soap are considered very effective. Diatomaceous earth and rock powders have been observed to reduce flea-beetle populations but applications must be renewed regularly after rainfalls.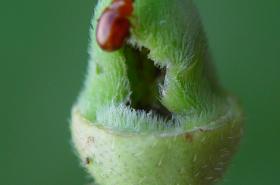 Flea beetle
Flea beetle
Phyllotreta mashonana
feeding on young okra pod.
© A.M. Varela, icipe
Red spider mites (Tetranychus spp.)
Red spider mites attack leaves of watermelons. Adults are about 0.6 mm long. Attacked leaves have a stippled appearance, turn yellowish to whitish and dry up. Often young plants are entirely destroyed. In older plants growth can be severely stunted and the fruit set considerable reduced. Spider mites can be a problem in dry and hot conditions. Plants under water stress (drought) are more likely to suffer damage by spider mites.
What to do:
Conserve

natural enemies

. Predatory mites and anthocorid bugs are important in natural control of mites.
Avoid use of broad-spectrum pesticides. They may kill

natural enemies

and may lead to mite outbreaks.
Provide good growing conditions for plants. Healthy plants are more likely to withstand mite attack. Adequate irrigation is particularly important. Apply

mulch

and incorporate

organic

matter into the soil to improve the water holding capacity and reduce evaporation.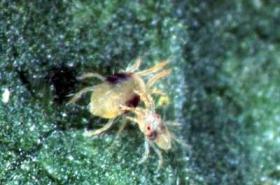 Spider mites
Two-spotted spider mite
(
Tetranychus urticae
). The adult female is 0.6 mm long. The male is smaller.
© Image supplied by Warwick HRI, University of Warwick

Spider mit…

Red spider…
Root-knot nematodes (Meloidogyne spp.)
Symptoms of infestation by root-knot nematodes are similar in all crops: wilting of plants and if infested plants are pulled from the soil the roots can be seen to be distorted, swollen and bearing knots. The infested roots eventually rot and affected plants die.
What to do:
Use resistant varieties, if available.
Practise mixed cropping. Mixed cropping with African marigold (Tagetes spp.) minimises root-knot nematode damage. Intercrop with different mustards (e.g.

Brassica juncea var. integrifolia

or

Brassica juncea var. juncea

) on infested fields. As soon as mustards are flowering, they should be mulched and incorporated into the soil. Two weeks after incorporating plant material into the soil a new crop can be planted or sown (phytotoxic effects are usual if the crop is planted before two weeks).
Maintain high levels of

organic

matter in the soil (manure or compost).
Use biofumigation where possible (biofumigation involves incorporation into the soil of crop residues of

crucifers

, resulting in high levels of

organic

matter).
Use neem extracts.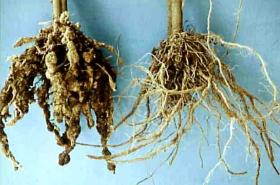 Root-knot nematodes
Root-knot nematodes
(
Meloidogyne incognita
/
M. javanica
) Roots of severely attacked (left) and healthy plant (right). Affected plants are normally stunted and eventually wilt and die. The most characteristic
symptom
is formation of root galls (knots) and these can be seen with the naked eye. Affected roots rot.
© A. M. Varela, icipe
Damping-off diseases (Pythium aphanidermatum)
They cause reduced plant stand (population). Diseased seedlings exhibit rotting and death of infected roots. A white cottony growth appears on affected tissues. Loss of young plants occurs through damping-off.
What to do:
Use certified disease-free seeds.
Leave wide spacing between plants.
Avoid over-watering.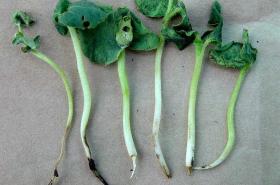 Damping-off disease
Okra seedlings affected by
damping-off
© A.A. Seif & A.M. Varela, icipe
Powdery mildew (Sphaerotheca fuliginea and Erysiphe cichoracearum)
Symptoms first develop as a whitish talcum-like powdery growth on upper leaf surface. The powdery growth is composed of fungal spore mass. These areas covered by white powdery growth may enlarge and join up to cover both lower and upper leaf surfaces. Severely affected leaves dry, turn brown and become brittle. Vines can be also attacked. Secondary effects of the disease include sun-burning and premature ripening of fruits.

Powdery mildew affects watermelons and all other cucurbits. Other hosts include African violets and pawpaws. The powdery mildew fungi are influenced by plant age, humidity and temperature. Foliage is most susceptible 16 to 23 days after unfolding. The fungi reproduce under dry conditions. Infection increases as humidity increases, but does not occur when leaf surface is wet. Optimum temperature for infection is about 27.4º C. However, infection can take place at a temperature as high as 32º C and relative humidity as low as 46%.
What to do:
Use resistant varieties, if available.
Spray with sulphur based fungicides, which provide good control. Do not apply sulphur fungicides when is hot - it may cause burning of foliage.
Destroy weeds belonging to the cucurbit family.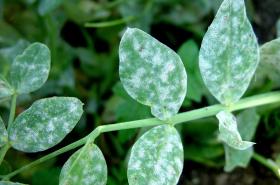 Powdery mildew
Powdery mildew
on peas
© A.M. Varela, icipe
Angular leaf spot (Pseudomonas syringae pv. lachrymans)
Spots on leaves angular in shape and variable in size due to leaf veins that limit their enlargement. Initially, spots are water-soaked. In moist weather, bacteria ooze from the spots in tear-like droplets, which dry making the tissue white. Affected leaf dries and shrinks, and it may tear away from the healthy portion leaving irregular holes. Leaves approaching maturity are more susceptible than older leaves. Fruits may also be attacked. Fruit spots are small, nearly circular and superficial. The bacteria survive in association with seed. When infected cucumbers are used for seed extraction, the seed can be contaminated during fermentation process. The bacteria can also survive in soil or infected crop debris. Drainage water can spread the bacteria in the soil. Angular leaf spot disease is favoured by wet conditions, frequently associated with rainfall and overhead irrigation. Optimum temperature for disease development is 23.9 to 27.8º C. The disease attacks watermelon, gherkin, muskmelon, pumpkin, squash, and vegetable marrow.
What to do:
Use resistant varieties, if available.
Use certified disease-free seed.
Practise

crop rotation

. A

crop rotation

of 1 to 2 years is recommended.
Avoid run-off water from nearby cucurbit fields and overhead irrigation.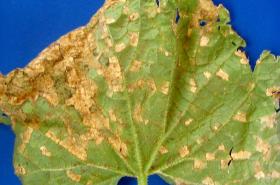 Angular leaf spot
Angular leaf spot
on cucumber
© A. A. Seif
Anthracnose (Colletotrichum graminicola)
The fungus can attack all the above-ground plant parts. Cotyledons (seed leaves) of affected seedlings droop and wilt. Lesions (elongated spots) may form on stems of affected seedlings near the ground. Spots on leaves start as small yellowish areas that enlarge and turn brown. The affected tissue dries, breaks and the whole leaf dies. On vines, the spots are elongated and may kill the vines.

Symptoms are most noticeable on fruits. Spots on fruits are circular, black, and sunken. When wet, the centres of the spots become salmon coloured due to a mass of fungal spores. Affected fruits can be destroyed by secondary soft-rot organisms, which enter through broken rind. The fungus is seed-borne. It can survive in crop debris and in weeds belonging to the cucurbit family. Fungal development is promoted by wet conditions, high relative humidity and moderate temperatures (20 to 23.9º C). Its host range includes watermelon, cucumber, gherkin, gourd and muskmelon. Cucurbit weeds can also be attacked.
What to do:
Use resistant varieties, if available.
Use certified disease-free seeds
Practise

crop rotation

with

brassicas

, cereals and legumes.
Destroy volunteer

cucurbits

and weeds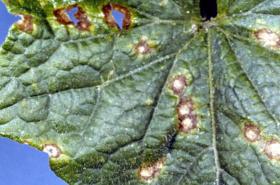 (

Colletotrichum orbiculare

) damage to pumpkin leaf (

Cucumis sativus

)
© Clemson University - USDA Cooperative Extension Slide Series, www.insectimages.org
Fusarium wilt (Fusarium spp.)
In seedlings, the cotyledons lose their healthy look (luster) and wilt. This is followed by complete collapse of the plants. Older plants initially exhibit wilting and yellowing of leaves near the crown. Later individual vines and then the whole plant wilt and dies. If the taproot and stem are split open, an orange-brown discolouration of the water conducting tissues will be seen. Fruits from affected vines are small with poor flavour and colour.

The fungus is a soil inhabitant. It enters the roots and grows in the water conducting tissues thereby blocking water movement. The fungus is also carried on the seeds and in soil adhering to farm implements. It can persist in soil for long periods. The disease is favoured by warm weather (optimum soil temperature for infection is about 27.8º C) and air humidity of more than 80% over a long period.
What to do:
Use resistant varieties, if available.
Use certified disease-free seeds.
Avoid spread of the

fungus

through contaminated farm implements and furrow irrigated water.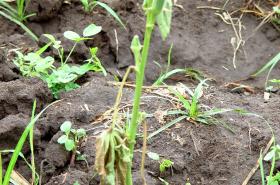 Fusarium wilt
Wilting of okra plant due to
fusarium wilt
© A.M. Varela & A.A.Seif, icipe

Fusarium w…

Fusarium w…
Scab (Cladosporium cucumerinum)
It attacks all aboveground plant parts. Initial symptoms on leaves appear as light water-soaked or pale green spots. The spots are numerous and can appear on and between veins. Elongate spots may develop on petioles and stems. The spots later turn grey to white and become angular. The fine veinlets in the spots may be brown and are distinct against a white background. Dead leaf tissue cracks and breaks away until the whole leaf is ragged. Fruits can be attacked at all stages of growth. However, young fruits are most susceptible. Plant tissue near the spots may produce sap, initially watery but later becomes gummy to hard.

The fruit spots are cankerous and with time become darker, sunken until a pronounced cavity is formed. Under moist weather, a dark-green velvety layer of fungal growth appears on the cavities. The fungus survives in crop debris, soil and on seed. It is spread by insects, farm tools and wind. The disease is most severe at 100% relative humidity and at relatively cool temperatures (21-25ºC). Its host range includes cantaloupe, gherkin, muskmelon, pumpkin and squash.
What to do:
Use resistant varieties, if available.
Use certified disease-free seeds.
Practise

crop rotation

with nonrelated crops (non-

cucurbits

).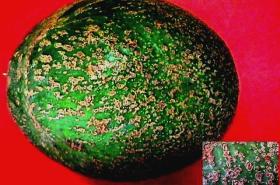 Scab
Scab
on avocado fruit
© A.A. Seif, icipe
Mosaic Virus diseases
Many viruses affect the cucurbit family. The important viruses include cucumber mosaic virus, watermelon mosaic virus and zucchini yellow mosaic virus. Field symptoms of these 3 diseases are similar and therefore it is very difficult to separate them by symptoms alone. Leaf symptoms include a prominent light and green mosaic pattern, mottling (yellow with green islands or blisters), and in severe cases, leaf distortion whereby affected leaves appear fern-like. Diseased fruits are malformed (slightly to severely misshaped with wart-like lumps).

Cucumber mosaic virus (CMV) It is not seed transmitted except through seed of perennial wild cucumber (Echinocytis lobata) and chickweed (Stellaria media). It is mechanically transmitted and in nature it is spread by various species of aphids (e.g. Aphis gossypii, Myzus persicae, etc.). The transmission mode by aphids is of the non-persistent type: the aphids acquire the virus from an infected plant and then transmit it to a healthy plant with their probing. They can acquire CMV from an infected plant in 10 to 30 seconds and can transmit the virus after feeding for as few as 9 seconds. It is also transmitted by striped cucumber beetles (Diabrotica vittata) and 12-spotted cucumber beetles (D. undecimpunctata) by mechanical means in plant sap carried on their mouthparts. It has a very extensive host range including such varied species as bananas, carrots, cowpeas, lupine, lilies, onions, passion fruit, potatoes and tomatoes.

Watermelon mosaic virus [Papaya ringspot virus-watermelon strain (PRSV-W), Watermelon mosaic virus 2 (WMV-2)]
This virus is mechanically transmitted and also spread by several species of aphids in non-persistent mode. It is not seed transmitted. Its host range is primarily restricted to
cucurbits
although one of its strains infects peas.
Zucchini yellow mosaic virus (ZYMV)
ZYMV is transmitted from one plant to another by aphids (e.g.
Aphis gossypii, Myzus persicae
, etc.) in non-persistent mode and by mechanical inoculation. The virus is not seed-borne.
What to do:
Use tolerant or resistant varieties if available.
Remove infected plants (

disinfect

hands and tools with 70% alcohol after contact with infected plants).
Do proper weeding.
Control insect vectors. A sustainable approach of controlling aphids is to prevent aphids reaching the crops and transmitting the virus.
In case of squash mosaic virus use certified disease-free seeds.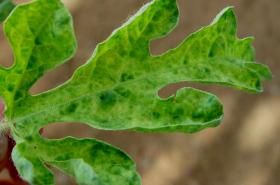 Mosaic virus
Mosaic virus
on water melon
© A.M. Varela, icipe

Mosaic vir…
Zucchini y…
AIRC (2003). Fruits and Vegetables Technical Handbook Second Edition (Revised). Ministry of Agriculture and Livestock Production, Nairobi, Kenya. ISBN: 6633-764-01-1
AVRDC International Cooperators' Factsheet on

Cucurbits

www.avrdc.org.
Beije, C.M., Kanyangia, S.T., Muriuki, S.J.N., Otieno, E.A., Seif, A.A., Whittle, A.M. (1984). Horticultural Crops Protection Handbook.National Horticultural Research Station, Thika KEN/75/028 and KEN/80/017/
CAB International (2005). Crop Protection Compendium, 2005 edition. Wallingford, UK www.cabi.org.
Ekesi, S., Billah, M.K. (Eds) (2006). A field guide to the management of economically important tephritid fruit flies in Africa. ICIPE. ISBN: 92-9064-179-7.
FAOSTAT data:www.faostat.fao.org.
Gichimu, B.M, Owuor, B.O. and Dida, M.M. (2009). Comparing the yield components of three most popular commercial watermelon

cultivars

in Kenya with one newly introduced

cultivar

and one landrace. Journal of Plant

Breeding

and Crop Science 1 (4): 65-71.www.www.academicjournals.org .
Kambu Agricultural Information Exchange. www.kambuae.blogspot.com .
Kuepper, G. (2003). Flea Beetle:

Organic

Control Options. NCAT Agriculture Specialist. Published ATTRA Publication # CT114. National Sustainable Agriculture Information Service.
Nutrition Data www.nutritiondata.com.
Ostermann, H., Dreyer, M. (1995). Vegetables and grain legumes. In: The Neem tree Azadirachta indica A. Juss. and other meliaceous plants sources of unique natural products for

integrated pest management

, industry and other purposes. Edited by H. Schmutterer in collaboration with K. R. S. Ascher, M. B. Isman, M. Jacobson, C. M. Ketkar, W. Kraus, H. Rembolt, and R.C. Saxena. VCH. pp. 392-403. ISBN: 3-527-30054-6
Sherf, A.F., Macnab, A.A.(1986). Vegetable Diseases and Their Control. 2nd. Edition. John Wiley & Sons Inc. USA. ISBN: 0-471-05860-2
Summers, C.G. and Stapleton, J. J. (2002). Use of UV reflective

mulch

to delay the colonization and reduce the severity of Bemisia argentifolii (Homoptera: Aleyrodidae) infestations in

cucurbits

. Crop Protection. Volume 21. Pages 921-928. www.sciencedirect.com.
Texas A&M University (2008, July 1). Watermelon May Have Viagra-effect. Science Daily. Retrieved September 29, 2010, from www.sciencedaily.com.
Wikipedia: www.wikipedia.org