Plant Health
Aphids
Aphids
Scientific Name: 
Aphis gossypii, Aphis spiraecola, Acyrthosiphum pisum, Brevicoryne brassicae, Cinara cupressi, Diuraphis noxia, Lipaphis erysimi, Melanaphis sacchari, Myzus persicae, Pentalonia nigronervosa, Ropalosiphum maidis, Toxoptera aurantii, Toxoptera citricida
Host Plants: 
African Nightshade
,
Amaranth
,
Bananas
,
Beans
,
Cabbage/Kale, Brassicas
,
Citrus plants
,
Cocoa
,
Cotton
,
Cowpea
,
Cucumber
,
Eggplant
,
Green gram
,
Groundnut
,
Maize
,
Mango
,
Okra
,
Papaya
,
Passion fruit
,
Peas
,
Peppers
,
Pigeon pea
,
Potato
,
Pumpkin
,
Sesame
,
Soybean
,
Sorghum
,
Spider plant
,
Spinach
,
Sweet potato
,
Tea
,
Tomato
,
Watermelon
,
Wheat
,
Zucchini/Courgette
Geographical Distribution in Africa
Geographical Distribution of Aphids in Africa (red marked) Updated on 11th July 2019. Source CABI.
General Information on Pest and Damage
Introduction
Major species of aphids attacking crops in Africa:
Banana aphid (Pentalonia nigronervosa)
Black bean aphid (Aphis fabae)
Cabbage aphid (Brevicoryne brassicae)
False cabbage aphid (Lipaphis erysimi)
Citrus aphid (Toxoptera citricidus, T. aurantii)
Green peach aphid (Myzus persicae)
Groundnut aphid (Aphis craccivora)
Cotton aphid (Aphis gossypii)
Russian wheat aphid (Diuraphis noxia)
Cypress aphid (Cinara cupressi)
Mango aphid (Toxoptera odinae)
Maize aphid (Ropalosiphum maidis)
Pea aphid (Acyrthosiphum pisum)
Sorghum aphid (Melanaphis sacchari)
Some images of these aphid species are found under 'more images' and under the specific crop pages.
Damage
Both adults and nymphs pierce plant tissues to feed on plant sap. Their feeding may cause rolling, twisting or bending of leaves. Heavily attacked leaves can turn yellow and eventually wilt. Aphids feeding on flower buds and fruits may cause malformed flowers and fruits. Aphids excrete a sugary, sticky liquid called honeydew that accumulates on leaves and branches. Sooty moulds (a fungal growth) grow on honeydew deposits turning leaves and branches black. Heavy coating with honeydew and sooty moulds may reduce photosynthesis, affecting plant growth and yield. 
Honeydew is a favourite food of some ant species. Thus, black ants are commonly found on plants with aphid infestations. These ants protect the aphids from natural enemies and are therefore considered indirect pests. Ants may even transport aphids from plant to plant. Many species of aphids have been implicated as major vectors of plant viral diseases. 
Affected plant stages 
Seedling stage, vegetative growing stage flowering stage and generative stage.
Affected plant parts 
Growing points, stems, leaves, inflorescences, fruits and whole plant.
Symptoms on affected plant parts 

Curled leaves, abortion of flowers, stunted growth and dieback. Sooty black mould becomes evident in heavy infestations. Black ants are very common in plant with aphid infestations. However, sooty moulds and ants are also associated with other honeydew-producing insects such as mealybugs, scales and whiteflies.
Biology and Ecology of Aphids
Eggs are very tiny, shiny-black, and are found in the crevices of bud, stems, and barks of the plant. Aphids usually do not lay eggs in warm parts of the world.
Nymphs (immature stages) are young aphids, they look like the wingless adults but are smaller. They become adults within 7 to 10 days. 
Adults are small, 1 to 4 mm long, soft-bodied insects with two long antenna that resemble horns. Most aphids have two short cornicles (horns) towards the rear of the body. The mouthparts are needle-sharp, resembling tiny straws. Their body colour varies from black, green, red, yellow, pink, white, brown, greyish, or purple. Adults of the same species may be wingless or winged (with two pair of wings). Winged aphids are usually dark in colour. Wingless forms are the most common; winged aphids are produced when they need to migrate, for example under overcrowded conditions with limited food source or when environmental conditions are unfavourable. 
Aphids lifecycle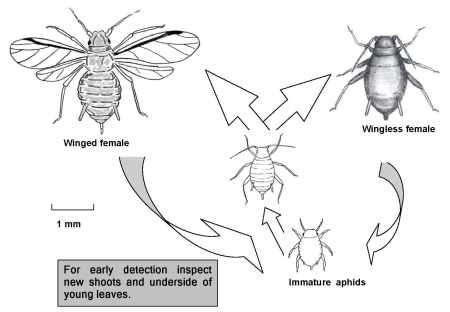 Aphid lifecycle
(c) A. M. Varela, icipe

Aphids have complicated life cycles. Females can reproduce with or without mating. Female aphids may lay eggs or give birth to wingless offspring, known as nymphs. In the warm parts of the world, as in the tropics, no male aphids are produced and female aphids do not lay eggs but give birth to small nymphs. A female can produce from 20 to over 100 nymphs. Young aphids grow quickly, becoming adult in about one week and start to reproduce. Thus the numbers increase rapidly under favourable conditions. Aphids live in clusters (known as colonies) on leaves and stems. Initially they are present on tender parts of the plant (young shoots and leaves), but as their number increases they can cover the whole plant. As the colony grows winged aphids are produced which fly away looking for new plants to start a new colony. 
Warm and dry weather is particularly favourable for rapid increase of aphid numbers.
Pest and Disease Management
Pest and disease Management: General illustration of the concept of infonet-biovision
This illustration shows the methods promoted on infonet-biovision. The methods shown at the top have a long-term effect, while methods shown at the bottom have a short-term effect. In organic farming systems, methods with a long-term effect are the basis of crop production and should be of preference. On the other hand methods with a short-term effect should be used in emergencies only. On infonet we do not promote synthetic pesticides. 
Further below you find concrete preventive and curative methods against Aphids.
Last updated on:
Thu, 07/11/2019 - 08:29