Featured Photo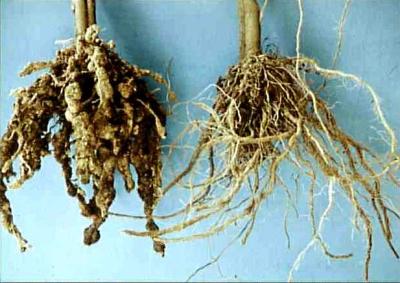 featured_photo_title
Root-knot nematodes
feaured_photo_co
A. M. Varela, icipe
Is this a Minor Pest?
Yes
Minor Pest Title
Root-knot nematodes (Meloidogyne spp.)
Minor Pest Description
Symptoms of infestation by root-knot nematodes are similar in all crops: wilting of plants and if infested plants are pulled from the soil the roots can be seen to be distorted, swollen and bearing knots (galls). The galls on pepper are much smaller than those on cucurbits or tomatoes. The infested roots eventually rot and affected plants die.
Minor Pest What to do.
Use of resistant varieties.
Crop rotation.
Mixed cropping with African marigold (Tagetes spp.).
Maintaining high levels of organic matter in the soil (manure or compost). For more information on compost click here.
Presently, some bioproducts are available for control of the root-knot nematodes (e.g. neem extracts). For more information on neem click here.
Minor Pest Firstcontent
119
Pest Type
nematodes (Pests)