Scientific name
Polyscias fulva
Order / Family
Araliaceae
Local Names
English (Parasol tree); Keiyo (Auoun); Kikuyu (Mutati); Kipsigis (Aounet); Luhya (Mwanzu); Luo (Nyakom ondiek); Maasai (Olyalilingi); Marakwet (Auoun); Meru (Mukurukuru); Nandi (Soiyet); Ogiek (Muachet); Sabaot (Ewondet); Taita (Mkanya); Tugen (Auwe).
Introduction
General distribution:
It is native to; Angola, Botswana, Burundi, Cameroon, Central African Republic, Democratic Republic of Congo, Ethiopia, Ghana, Guinea, Kenya, Lesotho, Malawi, Mozambique, Namibia, Nigeria, Rwanda, Sierra Leone, South Africa, Sudan, Swaziland, Tanzania, Togo, Uganda, Zambia and Zimbabwe. Its a tall forest tree widely distributed in wetter highland forests into the bamboo zone and southwards to southern Africa, Found in the tea growing areas of Kenya, often left in plantations (Mau, Tigoni, Nandi, Elburgon, Nyambene, Solai).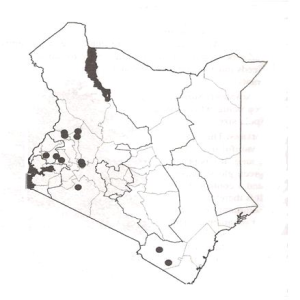 Distribution of Polyscias fulva in Kenya
© Maundu P. and Bo Tengnas. (2005). Useful trees and shrubs for Kenya, World Agroforestry Centre.

General Information about the Tree:
It can be grown with crops, e.g. banana or coffee. The high crown lets in light and the leaves produces good mulch. It is becoming rare due to overexploitation and planting should be encouraged. No smell thus good for containers. It is also used for beehives making.

Biophysical Limits:
Altitude ranges between 1180 and 2500 m above sea level, mean annual rainfall is between 1500 and 2000 mm and the tree is distributed in agro-ecological zones I - II.
Propagation and Tree Management
It may be established in mixed farming or natural management systems. Wildings or seedlings may be used to propagate it. It's a fast growing tree.


Products:
Fuel: The firewood of Polyscias species is of poor quality.
Timber: Wood is soft, white, odourless and not durable; used to make food containers, tea chests, veneers, plywood, beehives, utensils, musical instruments and mole traps.
Medicine: Leaves have useful medicinal properties.


Services:
Soil improver: Leaf fall provides good mulch, with soil under the tree being quite fertile.
Ornamental: The decorative tree can be grown in amenity areas.
Intercropping: The high crown lets in sunlight, making the tree suitable for intercropping with crops such as banana, coffee or cocoa.
Pests and Diseases
There is no information about diseases that affect it. This may be so because is not a serious problem.
Information Source Links
Maundu P. and Bo Tengnas. (2005). Useful trees and shrubs for Kenya, World Agroforestry Centre.