Scientific name
Milicia excelsa
Local Names
Boni (Minarui); Digo (Mvure); Giriama (Mvure); Kamba (Kitangure); Luhya (Murumba); Bukusu (Kumurumba); Luo (Olua); Meru (Mururi); Sanya (Mvule) Swahili (Mvule); Taveta (Murie); Teso (Eluwa);
Introduction
General distribution:
It is widespread in tropical Africa, from Guinea Bissau to Angola and Sudan to Mozambique. In Kenya it is common at the coast.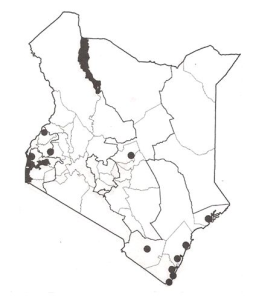 Distribution of

Milicia

excelsa

in Kenya
©

Maundu

P. and Bo

Tengnas

. (2005). Useful trees and shrubs for Kenya, World

Agroforestry

Centre.
General Information about the Tree:
One of the most important timber species, but over-exploitation has made it very rare. The heartwood is brown to yellow and easy to work. The wood resists termite attack almost as well as teak.
Biophysical Limits:
The tree does not tolerate waterlogging and the soil must be well drained and relatively fertile. Altitude; 0 - 1,400 m. Agro-ecological zones; I - II.
Propagation and Tree Management
It may be propagated by seedlings and
wildings
. It also produces suckers which can also be used. Is fast growing compared with other hardwoods, but slower than
Khaya

spp
. It may be pruned or
coppiced
. Regeneration rates are low in most areas. Occurs in plantations and mixed planting; young trees should be protected from browsing. Trees are ready for harvesting at about 50 years of age.
Products:
Fuel: M.

excelsa

can be planted for the production of timber and charcoal.
Timber: this is one of the most popular timber species in most of East African region
Others; boat building, medicine (bark), fodder, bee forage, mulch,
Services:
Erosion control: Trees are employed in soil conservation.
Shade or shelter: M.

excelsa

is an excellent shade tree
Soil improver: The leaves of the tree are used as a mulch.
Ornamental: M.

excelsa

makes a fine avenue tree for cities.
Pests and Diseases
Frequent attacks by a gall fly in the early stages of their growth have made the establishment of plantations difficult.
Information Source Links
Maundu P. and Bo

Tengnas

. (2005). Useful trees and shrubs for Kenya, World

Agroforestry

Centre. ISBN-9966-896-70-8.